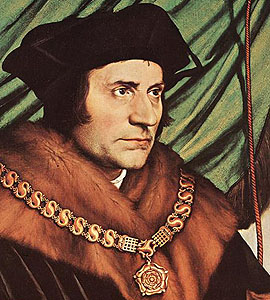 Let us first remember that the patron saint of civil servants is Sir Thomas More who famously asserted his integrity and stood up to the Government of the day (in the form of Henry VIII) ...... and got his head cut off. Confusingly, Saint Thomas is also the patron saint of politicians.
Not many years later, Queen Elizabeth I summarised officials' duty to Speak Truth to Power in this instruction to William Cecil:
"This judgment I have of you: that you will not be corrupted with any manner of gift, and that you will be faithful to the state, and that, without respect to my private will, you will give me that council that you think best."
Sir William Harcourt This nineteenth century Liberal politician neatly summarised the different roles of Ministers and civil servants when he said that:-

The Minister exists to tell the Civil Servant what the Public will not stand.
Jim Callaghan Shortly after his appointment as Foreign Secretary, (and soon to be Prime Minister) Mr Callaghan was briefed by the europhile Foreign Office official (later Sir) Michael Butler. At the end of the briefing Mr Callaghan said:

I get the impression that you really mind about the EEC and Britain's membership. That's fine by me. But just remember that I really mind about the Labour Party.
Sir Richard Mottram - Permanent Secretary at the Department of Transport - made the following perceptive comment when questioned by the Public Administration Select Committee in 2002:-

What the Civil Service wants, and I always compare it to a rather stupid dog, it wants to do what its master wants and it wants to be loyal to its master and above all it wants to be loved for doing that.

The Northcote Trevelyan Report This 1854 report catalysed the development of the apolitical UK civil service, recruited and promoted on merit rather than as a result of patronage. The authors noted that, at the time of their report:-

Admission into the Civil Service is indeed eagerly sought after, but it is for the unambitious, and the indolent or incapable, that it is chiefly desired.

Benjamin Franklin noted that
We must not in the Course of Publick Life expect immediate Approbation and immediate grateful Acknowledgement of our Services. - But let us persevere thro' Abuse and even Injury. The internal satisfaction of a good Conscience is always present, and Time will do us Justice in the minds of the People, even of those present the most prejudic'd against us.
Sir James Stephen Commenting on the Northcote Trevelyan recommendations, this distinguished Minister saw no prospect that bright people would be drawn to a Civil Service career:

A clerk in a Public Office may not even dream of fame to be acquired in that capacity. He labours in an obscurity as profound as it is unavoidable. His official character is absorbed in that of his superior. He must devote all his talents, all his learning, to measures, some of which he will assuredly disapprove, without having the slightest power to prevent them; and to some of which he will most essentially contribute, without having any share whatsoever in the credit bestowed on others, which his pain has earned for them; and if any accident should make him notorious enough to become the suspected author of any unpopular act, he must silently submit to the reproach, even though it is totally unmerited by him. These are indeed the indispensable disadvantages of the position of a clerk in a Public Office, and no man of sense and temper would complain of them. But neither will any real man of mental power, to whom the truth is know beforehand, subject himself to an arduous examination in order to win a post so ill paid, so obscure, and so subordinate or, should he win it, no such man will long retain it.
[Sir James' 1854-5 Parliamentary Papers]
Prime Minister Stanley Baldwin addressing the Civil Service Dinner in 1925:
Unlike Cabinet Ministers who have their fame entombed in rows of bulging biographies, the great Civil Servants often hardly attain to the humble dignity of a footnote to history. A Civil Servant does good by stealth and would blush to find it fame; a Cabinet Minister does good by publicity and would resign if he failed to secure it! It is easy to decide which is the more indispensable to a nation's welfare. The country easily survives the frequent changes of ministries; it hardly moved a muscle when a Labour Government climbed for a moment to office; but it would receive a staggering blow if the Civil Service suddenly took it into its head to resign tomorrow. Some Governments are in office but not in power; the Civil Service is always in office and always in power.

Ministers and Officials Continuing the theme of the UK constitution requiring Ministers to take all the credit (and all the blame) for the achievements of their departments, I was interested to read this in The Times obituary of EU expert Sir Michael Butler:

[After one particularly difficult series of negotiations] 'While [Prime Minister] Thatcher took all the credit with the Tory faithful, Foreign Office colleagues were convinced that the campaign would not have succeeded without Butler's meticulous planning, calm persistence in negotiations and, crucially, the respect he commanded in Brussels.'

Sir Edward Bridges described the mandarin's character in this way:

He is less easily elated, less readily discouraged than most men by everyday happenings. Outwardly he may appear cynical or disillusioned, and perhaps to be disinclined to put up a fight for things which excite others. But this is because he has learned by experience that the walls of Jericho do not nowadays fall flat even after seven perambulations to the sound of the trumpet, and that many of the results which he wants to see come about in the most unexpected ways. Once the crust of disillusion is pierced, you will find a man who feels with the fiercest intensity for those things which he has learned to cherish - those things, that is to say, which are of vital concern for the continued well-being of the community.
Jonathan Portes offered this sage advice:
The textbook description of the role of the civil service is to provide impartial, objective advice to Ministers, who then decide. Meanwhile, the Yes Minister parody – the civil service, whose primary interests are to maintain the status quo, and with it, their own power – still has a powerful hold over the public imagination.  Neither is accurate.  Civil servants who "speak truth to power" by telling ministers that their pet policy ideas are crazy and unworkable don't get far.  But simply nodding along and promising to deliver the undeliverable is not only a betrayal of the responsibilities of a civil servant but is what leads to policy disasters like Universal Credit. Being a good civil servant is about squaring the circle – analysis combined with persuasion, vision combined with realism.  
General Sir Walter Walker Soldiers are never fans of their civil service colleagues:-

Britain has invented a new missile. It's called the civil servant - it doesn't work and it can't be fired.
And military men and women can be very good at standing up to Ministers. Admiral Beatty told his successor that ...
You have to have a bloody awful row with Winston [Churchill] once a month and then you are all right.

Mark Turner and David Hulme on policy-making:
What must be banished is any lingering idea that policy is some highly rational process in which expert technicians are firmly in control using highly tuned instruments to achieve easily predicted outcomes. Such an image is inappropriate for OECD countries let alone the developing world...
R A Butler
The Civil Service is a bit like a Rolls Royce - you know it's the best machine in the world, but you're not quite sure what to do about it.
George Burns
Too bad that all the people who know how to run the country are busy driving taxicabs and cutting hair.

Sir William Beveridge
The besetting sin of civil servants is to mix too much with each other.
Walter Lippmann
The best servants of the people, like the best valets, must whisper unpleasant truths in the master's ear.
Barbara Castle
I get very fond of my civil servants (or at any rate some of them). The outside world has no idea how human they are.

Machiavelli
A prince who is himself not wise cannot be well advised.
Lord Wakeham recounts how he overheard two Treasury Mandarins discussing a tricky problem. One said 'That's OK in practice, but what's wrong with it in theory?'
A H Keates
The perfect civil servant is the man who has a valid objection to any possible solution.

Eminent economist John Maynard Keynes' first job was in the India Office. He wrote as follows to Lytton Strachey in 1906:

I am a clerk in the India Office - having passed the medical with flying colours, balls and eyesight unusually perfect they said. My marks have arrived and left me enraged. Really, knowledge seems an absolute bar to success. I have done worse in the only two subjects of which I possessed a solid knowledge, mathematics and economics.
Anthony Sampson
Civil servants talk about politics as a yachtsman might talk of the wind - a wild, irrational force, always liable to upset the navigator's calculations, yet having to be calculated for by systems of tacking, reefing or battening down.

The Duke of Wellington This cry from the heart resonates down through the centuries as soldiers and civil servants remain subject to excessive audit and regulation:-

Whilst marching from Portugal to a position which commands the approach to Madrid and the French Forces, my officers have been diligently complying with your requests, which have been sent by H.M Ship from London to Lisbon and thence by dispatch rider to our headquarters.

We have enumerated our saddles, bridles, tents and tent poles, and all manner of sundry items for which His Majesty's Government holds me accountable.


I have dispatched reports on the character, wit, and spleen of every officer. Each item and every farthing has been accounted for with two regrettable exceptions for which I beg your indulgence.


Unfortunately the sum of one shilling and ninepence remains unaccounted for in one infantry battalion's petty cash and there has been a hideous confusion as to the number of jars of raspberry jam issued to one cavalry regiment during a sandstorm in western Spain. This reprehensible carelessness may be related to the pressure of circumstances since we are at war with France, a fact which may come as a bit of a surprise to you gentlemen in Whitehall.

This brings me to my present purpose, which is to request elucidation of my instructions from His Majesty's Government, so that I may better understand why I am dragging an army over these barren plains. I construe that it must be one of two alternative duties, as given below. I shall pursue either one with my best ability, but I cannot do both.

1. To train an army of uniformed British clerks in Spain for the benefit of the accountants and copy-boys in London, or perchance
2. To see to it that the forces of Napoleon are driven out of Spain.
(I am not convinced that this is a genuine quotation, and confirmation either way would be very welcome. But, if it is not genuine, then it ought to be.)

Anon
Now that the Cabinet's gone to its dinner,
The Secretary stays and gets thinner and thinner,
Racking his brains to record and report
What he thinks that they think they ought to have thought.
The Bible Exodus 18 contains an early reference to the creation of a civil service. Here, in verses 18-23, Moses' father-in-law gives advice to Moses:-

You and these people who come to you will only wear yourselves out. The work is too heavy for you; you cannot handle it alone. Listen now to me and I will give you some advice, and may God be with you. ... select capable men from all the people - men who fear God, trustworthy men who hate dishonest gain - and appoint them as officials over thousands, hundreds, fifties and tens. Have them serve as judges for the people at all times, but have them bring every difficult case to you; the simple cases they can decide for themselves. That will make your load lighter, because they will share it with you.
George Mikes - 'How to be an Alien'

On the continent, rich and influential people, or those who have friends or relations in an office, may have their requests fulfilled. In England, there is no such corruption. Your obedient servant will just not do a thing, whoever you may be. And that is the real benefit of democracy.
Foreign Office colleagues have mixed feelings about Rose Macaulay's suggestion in The Towers of Trebizond that...
[the narrator] liked the consul and his wife very much ... and she did not want to make trouble for them, though actually that is what consuls expect and are for.
It is not easy to speak truth to power in North Korea. Hinting at the 2019 execution of several officials, a newspaper commented that:
"Those who pretend to serve the leader to his face but have different goals, and dream different dreams behind his back, those who have thrown away their loyalty and ethics, those who are anti-party, anti-revolution, cannot escape a heavy judgment."
Various Sage Advice

Admit your errors before someone else exaggerates them.
Minister Chris Mullin quoted this advice offered by Permanent Secretary Richard Mottram on Mr Mullin's first day in office: "Choose two or three issues on which you might make a difference and don't worry about the rest."
I like this explanation, by President Obama, of why running a government is a little different to running a large company. >>>>
And finally:-
This advice from Bertrand Russell should be followed by all civil servants:
Do not feel absolutely certain of anything.
Do not think it worth while to proceed by concealing evidence, for the evidence is sure to come to light.
Never try to discourage thinking for you are sure to succeed.
When you meet with opposition, even if it should be from your husband or your children, endeavor to overcome it by argument and not by authority, for a victory dependent upon authority is unreal and illusory.
Have no respect for the authority of others, for there are always contrary authorities to be found.
Do not use power to suppress opinions you think pernicious, for if you do the opinions will suppress you.
Do not fear to be eccentric in opinion, for every opinion now accepted was once eccentric.
Find more pleasure in intelligent dissent than in passive agreement, for, if you value intelligence as you should, the former implies a deeper agreement than the latter.
Be scrupulously truthful, even if the truth is inconvenient, for it is more inconvenient when you try to conceal it.
Do not feel envious of the happiness of those who live in a fool's paradise, for only a fool will think that it is happiness.